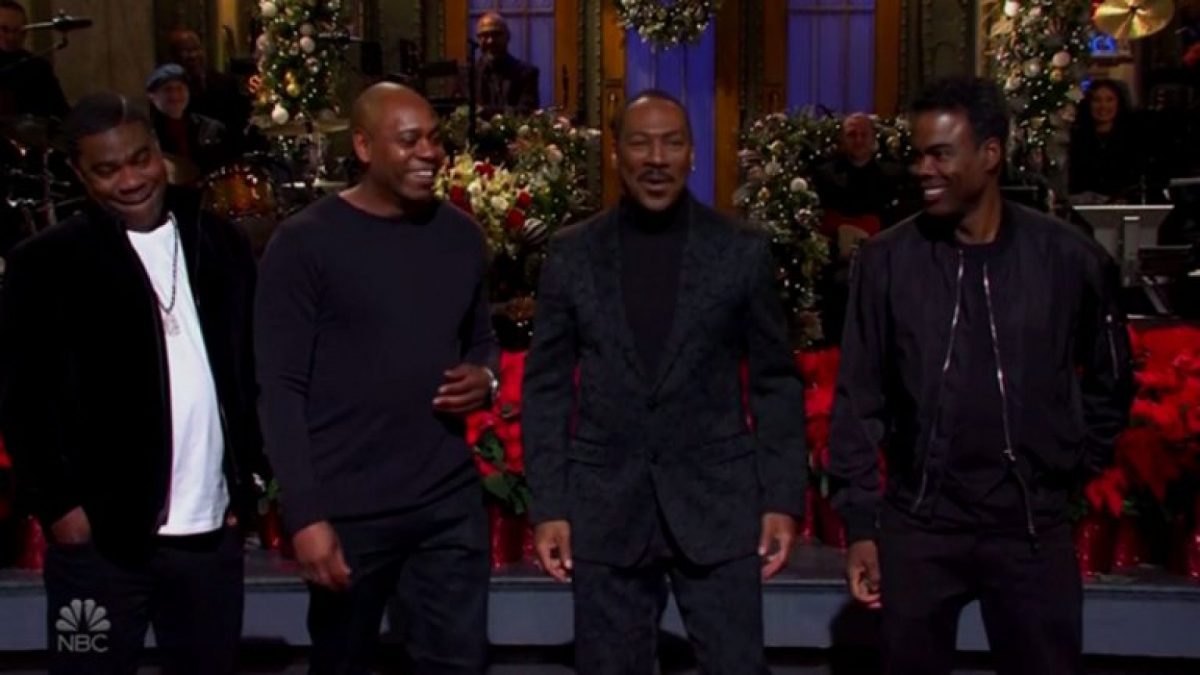 Eddie Murphy built his career starring in some of the funniest movies of all time like "Beverly Hills Cop," "Trading Places," "Coming to America" and "Shrek."
But Murphy's career trailed off and now he's making a comeback.
And now that's all in jeopardy because of one joke about Bill Cosby.
Every single cast member and writer who has been fortunate enough to work at "Saturday Night Live," owes their employment to none other than Eddie Murphy. 
The year was 1980. All of the box-office cast members had left the show including Dan Aykroyd, Chevy Chase, Jane Curtin, Bill Murray, Gilda Radner and John Belushi had all left the show. By the 1980-81 season, the biggest star the show had was Joe Piscopo. 
But waiting in the wings was a 19-year-old standup comic and featured cast member by the name of Eddie Murphy just itching to get the chance. 
At this time, "SNL" was in jeopardy of being canceled by NBC altogether, that is, until Eddie Murphy got his chance to set the stage on fire. Many writers and fellow cast members would consistently remark that everything Eddie did was a massive hit. Everything he touched turned to gold. 
In fact, at one point in 1984, not only did Eddie have the number one television show with "SNL," but he also had the number one movie in the world "Beverly Hills Cop." He also remains the only one to host "SNL" while still being a member of the cast. 
Eddie officially made his return to "SNL" after 35 years to host the Christmas episode and it was as advertised. It may very well be one of, if not the best "SNL" episode of this century – bringing back all of his old characters like Buckwheat, Mr. Robinson, Gumby and Velvet Jones. 
But one joke sent a shockwave of ridiculous controversy over comparing himself to comedian legend and now-incarcerated Bill Cosby. 
During his monologue, Eddie joked that if someone told him 30 years ago that "I would be this boring, stay- at-home … house dad and Bill Cosby would be in jail," he would've taken that bet. Murphy then imitated Cosby, asking "Who is America's dad now?" Cosby was frequently called "America's Dad," and it's hard not to laugh at the obvious irony here. 
However, Bill Cosby's publicist, Andrew Wyatt, responded to Eddie's SNL monologue on Instagram saying, "It is sad that Mr. Murphy would take this glorious moment of returning to SNL and make disparaging remarks against Mr. Cosby. One would think that Mr. Murphy was given his freedom to leave the plantation, so that he could make his own decisions; but he decided to sell himself back to being a Hollywood Slave. Stepin Fetchit plus cooning equals the destruction of Black Men in Hollywood. Remember, Mr. Murphy, that Bill Cosby became legendary because he used comedy to humanize all races, religions and genders; but your attacking Mr. Cosby helps you embark on just becoming click bait."
How absurd is this? 
Can you imagine defending someone who was convicted of the heinous crimes of drugging and raping women as if they're still some sort of role model for black men in the entertainment industry? 
Granted, it's important to note that Cosby didn't directly sanction his publicist's opinion, but that sentiment is something "The Cosby Show" star has perpetuated to young black comics over the years.
In Eddie Murphy's 1987 stand-up film, "Eddie Murphy's Raw," he explained that he had received a call from Cosby — who he considered his comedic idol at the time — condemning his comedy for being vulgar.
Murphy said, "I'm a big fan of Bill Cosby. Never met the man, but he called me up about a year ago and chastised me on the phone about being too dirty on the stage. It was real weird because I had never met him and he just thought he should call me up, because he was Bill, and tell me that that isn't what comedy is all about. I sat and listened to this man chastise me, and when Bill Cosby chastises you, you forget you're grown, you feel like one of the Cosby kids."
But Eddie Murphy's return to "SNL" after 35 years was all about the man who hosted and although there was a rightful joke at the convicted felon's expense, the fact that some tried to demonize Murphy at the behest of Cosby's dignity is almost surreal.