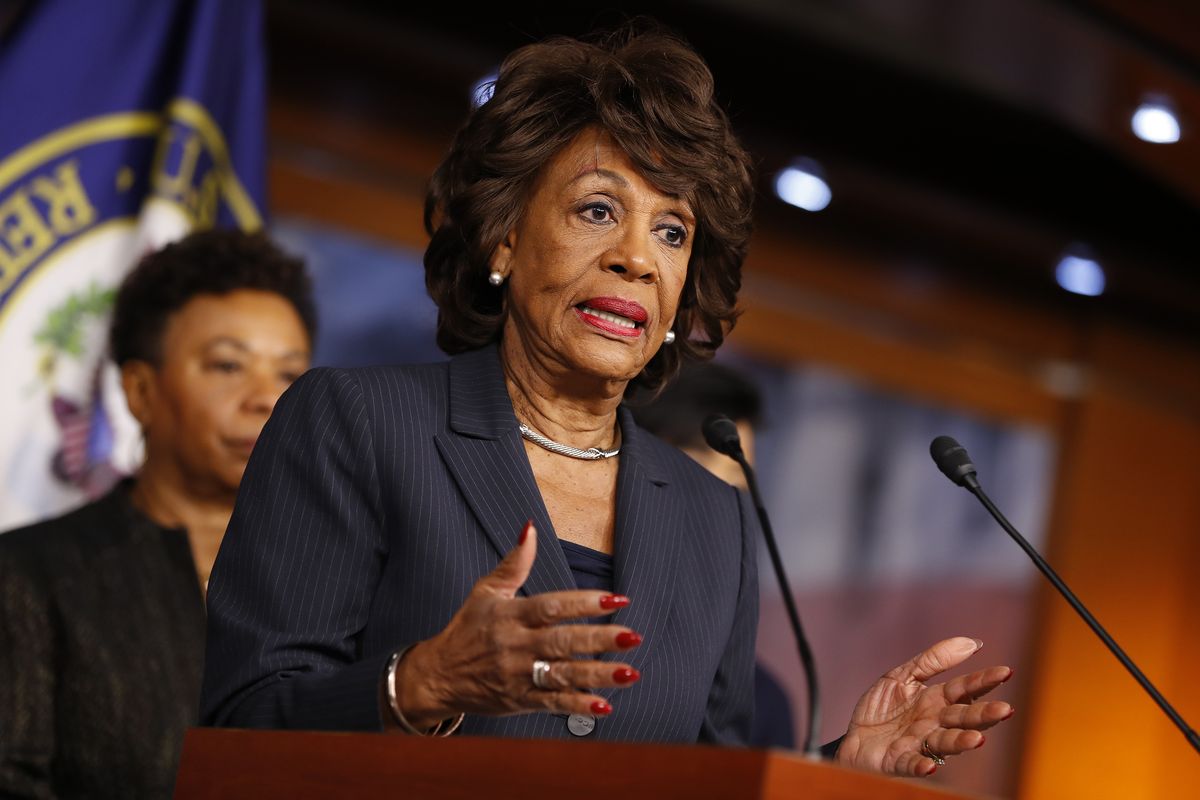 You might be surprised to learn that some people in Los Angeles support President Trump.
It's not just Kanye West-like celebrities who see between the lines of the Democratic Party. West once admitted that some of his celebrity friends are too afraid to come forward with their support of Trump because they're afraid of being blacklisted.
One of them is the renowned street artist, Sabo, who just destroyed prominent Democrat and Congresswoman Maxine Waters on an LA billboard.
Halloween clobbered the box office competition over the weekend with a massive $77.5 million opening.
It's the second biggest October opening of all time.
The sequel to the 40-year-old "Halloween" classic was a monstrous success.
Jamie Lee Curtis reprised her role of Laurie Strode and it was helmed by the duo behind Eastbound & Down, David Gordon Green, and Danny McBride.
When a highly anticipated movie like that hits Hollywood, there are advertisements everywhere in Los Angeles. Bus stops and billboards are loaded with upcoming movies like Halloween.
And street artist Sabo took advantage of one of "Halloween" billboards.
Sabo replaced Michael Myers' infamous mask with a picture of Congresswoman Maxine Waters.
Sabo replaced Michael Myers' infamous mask with a picture of Congresswoman Maxine Waters
It shows Waters with Myers' big knife.
And it also says "Uncivil Democrats."
@thebestcloser Street artist Sabo strikes the Left again, this time targeting everyone's favorite auntie: Maxine Waters, whom he's graciously given a starring role in one of the longest running franchises, "Halloween." pic.twitter.com/gMNZkbHPPW

— Moon (@bstaps05) October 19, 2018
Sabo is right about the incivility towards Republicans.
Waters has incited violence against the right on many different occasions.
One time she said, "If you see anybody from that cabinet in a restaurant, in a department store, at a gasoline station, you get out and you create a crowd. You push back on them. Tell them they're not welcome anymore, anywhere!"
Republicans deal with that on a regular basis nowadays.
Earlier this year, White House Press Secretary Sarah Huckabee Sanders was kicked out of a DC area restaurant because liberals didn't want to serve her.
Sen. Ted Cruz was forced to leave a restaurant with his wife after irate leftists screamed at him until he left.
During Brett Kavanaugh's Senate Judiciary hearings, liberals also attacked Senators Orrin Hatch and Jeff Flake.
The mob mentality of the left is disgraceful.
So when Sabo calls Democrats"uncivil" it's almost an understatement.
So when Sabo calls Democrats "uncivil"  it's almost an understatement
They want to destroy Republicans in Congress.
Sabo's become a legend amongst the right too.
The infamous artist took aim at Asia Argento.
He did that because she allegedly slept with a 17-year-old model.
And she was the face of the Me Too Movement at that time.
Then he changed her story that he raped her.
However, there is a picture of the two of them lying in bed together.
That photo tells a different story.
So Sabo staged pictures of Argento that showed her middle finger with a "She too" hashtag over her eyes.
He also blasted country music legend Willie Nelson for supporting Texas Democrat Beto O'Rourke.
His art was a mock promo poster for the Grammy Award winner "Sings for the socialist."
But he also pointed out that Nelson was a "tax dodger."
Of course, liberals are outraged over Sabo's acts.
Doesn't it seem like they can dish it out but they can't take it?
Sabo's right.
Trump echoed this same sentiment recently.
He said that Republicans want "jobs" and the leftists are a "mob."
Liberals suffer from Trump Derangement Syndrome. They ooze with anger because of Trump.
They've resorted to violence.
Do you think Sabo's billboard is accurate?
Let us know in the comments below!