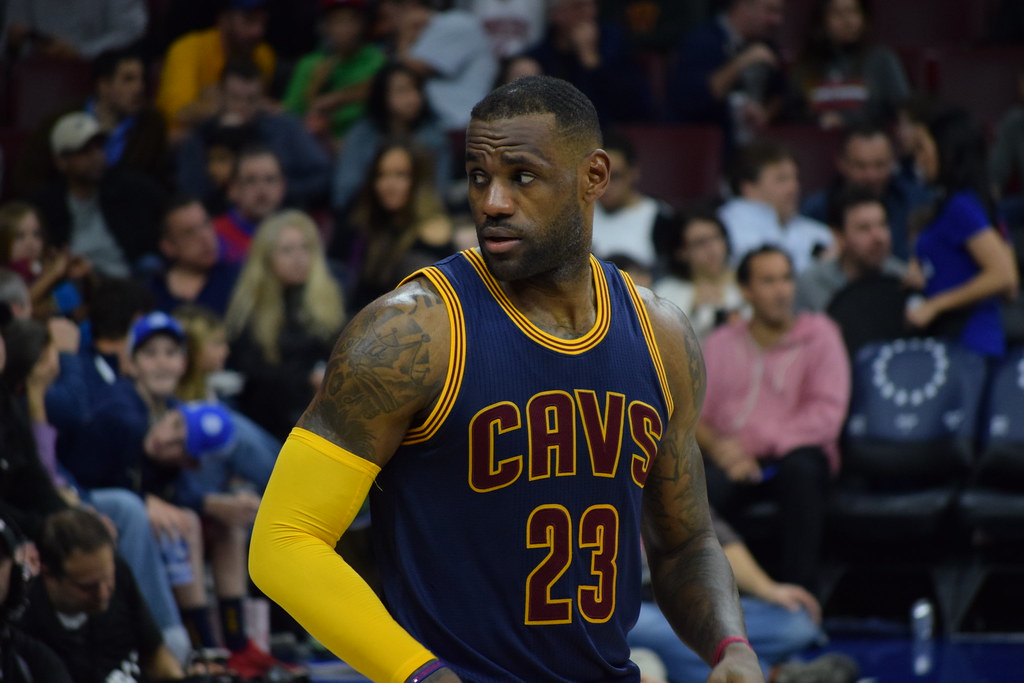 The level of hypocrisy amongst these NBA players currently happening before our very eyes is simply jaw-dropping. 
Houston Rockets general manager Daryl Morey tweeted support for pro-Democracy protestors in Hong Kong and the Chinese government quickly condemned him and the league. But superstar NBA player LeBron James shockingly condemned Morey's tweet as well. 
And now LeBron James is public enemy number one in Hong Kong and the protesters are showing him that in a big way. 
LeBron James has always had a big mouth when it comes to political views and social justice issues. The then-Miami Heat star spoke out about Trayvon Martin's murder. LeBron was also vocal when former Los Angeles Clippers owner Donald Sterling was secretly recorded saying the N-word. 
The then-Cleveland Cavaliers star also said of President Trump that he doesn't "give a f—k about the people." 
James frequently uses his celebrity platform to say virtually whatever he wants and does so mostly on his HBO show "The Shop." Now that he's a resident of Los Angeles, you can expect more of his opinions. It's the perfect place for it. 
Yeah, except on the China issue where thousands of Hong Kong citizens are fighting for Democracy against the Communist government.
It took almost two weeks for James to convey his thoughts on Houston Rockets general manager Daryl Morey's tweet supporting Hong Kong protestors. What James said was shocking at first. 
On the issue, James said, "Yes, we do have freedom of speech. But at times there are ramifications for the negative that can happen when you're not thinking about others, when you only think about yourself."
He even went on to say Morey was "misinformed" on the Hong Kong issue, which is about as condescending as you can get.
James tweeted: 
My team and this league just went through a difficult week. I think people need to understand what a tweet or statement can do to others. And I believe nobody stopped and considered what would happen. Could have waited a week to send it.

— LeBron James (@KingJames) October 15, 2019
And Hong Kong protestors were listening when James said those comments because now they're burning his jerseys in the streets.
Some NBA fans in Hong Kong are burning LeBron James jerseys, after he commented on the Houston Rockets GM's tweet that supported protesters.

James said people should be careful what they tweet because "a lot of negative" can come with free speech. pic.twitter.com/PXHd2mIpvF

— AJ+ (@ajplus) October 15, 2019
On ESPN, he's King. Around the world, he is the poster child for communismhttps://t.co/0W9cI0jAQz

— Wayne Dupree 🎙🎥 (@WayneDupreeShow) October 16, 2019
They even put his face on a backboard. 
Los Angeles Lakers star LeBron @KingJames is being criticized in Hong Kong for his comments about free speech in the latest China/NBA fallout.

Some are burning his jersey.

Story and video by @johnleicester >> https://t.co/MQPgnQXvHO pic.twitter.com/H4Qy4zMVBo

— AP Sports (@AP_Sports) October 15, 2019
You have to ask yourself one of two questions: does LeBron James actually believe what he said or is this really just a financial decision? 
James is without a doubt Nike's highest-paid athlete. At the end of the day, James will have a Michael Jordan-esque legacy with the apparel brand even post-career. But you also have to remember that James has a Warner Bros. movie "Space Jam 2" hitting theaters next summer in China as well. 
But you don't get to choose when you want to stand up on certain issues – like when it's convenient to do so and it doesn't affect your bottom line. That's hypocrisy.