Hollywood has always been one giant sick joke but lately, they've taken that to a whole new level.
The audacity that these elitists have when they take a moral high ground on issues about equal rights, misogyny, and gun violence is hilarious when you consider the scope of the #Me Too Movement and the perpetuation of pro-gun violent movies in the industry.
And while they all hate President Trump – calling his behavior and policies despicable, they're the ones who should be looking in the mirror because what they do is exponentially worse.
How many Hollywood celebrities have threatened assassination against President Trump since he was elected?
Johnny Depp, Madonna, Joss Whedon and Kathy Griffin have all directly threatened Trump's life with their liberal hysteria.
Once-superstar actor, Jim Carrey, paints violent canvasses that involve Trump, his administration or his family on seemingly a daily basis.
The list goes on and on. And when they involve his family is when they cross the line because they are not public servants. It should be unacceptable regardless of who they are but when you involve an eleven-year-old boy, that's where it's obviously gone too far.
And that includes when a Rick and Morty co-creator named Justin Roiland grotesquely released a naked drawing of Barron Trump on Twitter a year ago. It appears as though it's been deleted since the backlash ensued.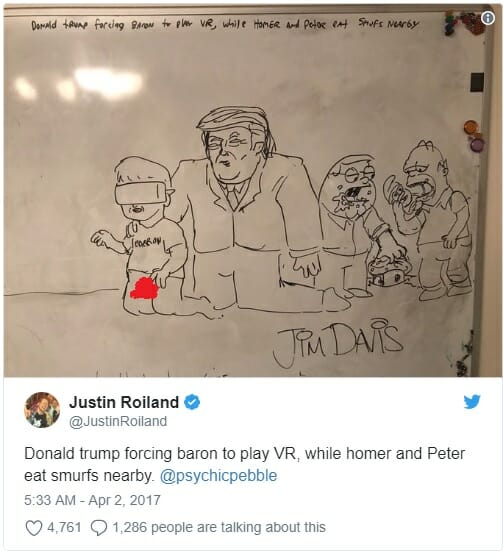 This is all stemming from the rampant pedophilia joke problem that Hollywood has been exposed for in the last week.
Guardians of the Galaxy Volumes I & II director, James Gunn, was recently ousted for making insanely inappropriate jokes on Twitter years ago that involved the disgusting act of rape and pedophilia.
One of the tweets read, "I like when little boys touch me in my silly place."
Another one Gunn wrote was just as foul, "The best thing about being raped is when you're done being raped and it's like, "whew this feels great, not being raped!"'
Disney has since fired the director from the third "Guardians" installment but Hollywood has been hypocritically defending his outrageous jokes. These are the same people who called for Roseanne Barr's job after a tweet she made about former President Obama Senior Advisor Valerie Jarrett.
But Brown's co-creator of Rick and Morty, Dan Harmon, was also in hot water recently after what critics alleged was a pedophilia promoting video he made in 2009 recently surfaced.
Harmon wrote, "In 2009, I made a 'pilot' which strove to parody the series 'Dexter' and only succeeded in offending. I quickly realized the content was way too distasteful and took the video down immediately. Nobody should ever have to see what you saw and for that, I sincerely apologize."
It was pretty horrific.
The network that produces their hit animated show put out a statement that read, "At Adult Swim, we seek out and encourage creative freedom and look to push the envelope in many ways, particularly around comedy. The offensive content of Dan's 2009 video that recently surfaced demonstrates poor judgement and does not reflect the type of content we seek out."
They did not put out a statement over Brown's horrendous artwork though.
This is the gross hypocritical bubble that these pro-Hillary and anti-Trump Hollywood elitists live in.
They're quick to point fingers at Trump condemning him for what they perceive as character issues but they're the worst offenders of them all.
This is the most "pot calling the kettle black" situation in the history of that idiom.
And they are shamelessly attacking a young boy to "take it to the man" with President Trump.
Who buys this nonsense anymore?