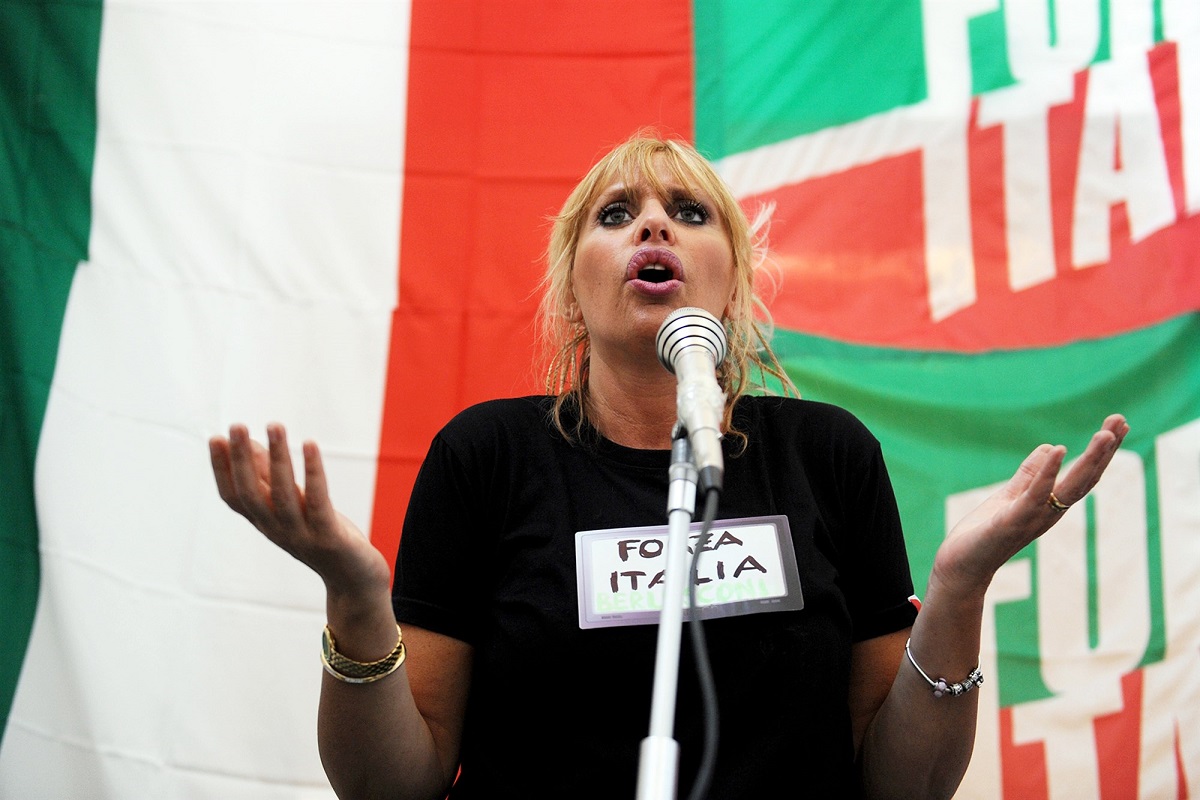 If you saw Benito Mussolini trend on Twitter over the weekend then it was probably a jarring experience that made you cock your head back in utter disbelief.
It's one of those moments you might take a leap in predicting that it's probably liberals are so outraged with President Trump that they're comparing him to the fascist dictator partly responsible for World War II, but that's not exactly what happened.
No, it was Mussolini's granddaughter that caused quite a stir on Twitter under Jim Carrey's latest painting.
To say Jim Carrey gets incredibly aggressive with his paintings would be a massive understatement.
Carrey has literally attacked everybody in the Trump administration including the president and his family.
Every single one is a gross hyperbolic painting about how he feels about the current state of politics.
This week was his painting of the real-life situation of Benito Mussolini and his slain mistress hanging upside down from a steel girder in 1945 and Carrey captioned it with, "If you're wondering what fascism leads to, just ask Benito Mussolini and his mistress Claretta."
It's gross, aggressive and accurate all at the same time. And it has obvious implications that he thinks America is headed down this road under the Trump administration.
But that's when Alessandra Mussolini commented, "You are a bastard."
Alessandra is a far-right politician who serves as a Member of the European Parliament for Italy in her own right and unsurprising spent decades defending her grandfather's actions.
And then the shenanigans began.
Twitter users absolutely destroyed her line of thinking that her grandfather wasn't a bad guy who aligned with Adolf Hitler to wreak havoc on a global scale.
Evan O'Connell responded to "You are a bastard" with "I think you're confusing Jim Carrey with your murderous grandfather." Alessandra clapped back with an unusual response, "Or maybe with some of your family…"
Presumably, she's trying to make the point that every family has skeletons in their closets.
But O'Connell noted, "My grandfather fought to liberate Europe from people like your grandfather." That's when Alessandra's delusions reached a whole new level with "do you want applause?" Yikes.
Those tweets have since been deleted.
Alessandra spent much of the day on clean up duty defending her grandfather while showing pictures of Native Americans digitally imposed on Mount Rushmore, implying that nobody is innocent.
And to be fair, she's right.
President Trump has made this point about Russia interfering in our elections and his response to the Press was "What you think we're so innocent?" World history is loaded with indefensible decisions that cost the lives of millions. America and its creation is no victim in the scope of Earth's history.
We've meddled in elections, committed genocide against Native Americans, knowingly traded arms to terrorists and drug dealers. The list goes on and on.
That makes Carrey's painting oblivious.
As of Tuesday morning, Carrey had yet to respond to Alessandra Mussolini but the Ace Ventura: Pet Detective star should know better than to try insight Twitter warfare in this way.
Carrey has 18 million followers on Twitter and he knows the insinuation he's making about Fascism taking over in America will create Internet havoc.